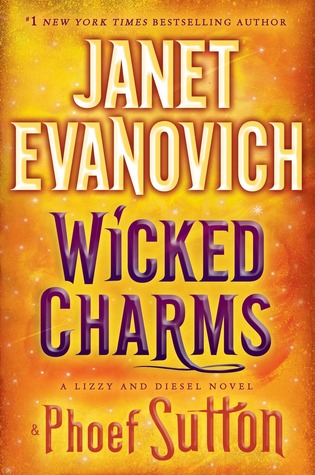 *Image and Summary taken from goodreads.com
Book: Wicked Charms
Author: Janet Evanovich and Phoef Sutton
Summary:
Murdered and mummified more than ninety years ago, bootlegger Collier "Peg Leg" Dazzle once found and re-hid a famous pirate's treasure somewhere along the coast of New England. A vast collection of gold and silver coins and precious gems, the bounty also contains the Stone of Avarice — the very item reluctant treasure seeker, Lizzy Tucker, and her partner, Diesel, have been enlisted to find. While Lizzy would just like to live a quiet, semi-normal life, Diesel is all about the hunt. And this hunt is going to require a genuine treasure map and a ship worthy of sailing the seven seas . . . or at least getting them from Salem Harbor to Maine.
Greed is eternal and insatiable, and Lizzy and Diesel aren't the only ones searching for the lost pirate's chest. There are people who have dedicated their entire lives to finding it, and are willing to commit murder or make a deal with the devil, just to hold the fortune in their hands. One of those people may even be Wulf, Diesel's deceptively charming and enigmatic cousin. Wulf desires the Stone of Avarice. He also desires Lizzy. It's hard to say how far he's willing to go to gain either one.
It's a swashbuckling adventure full of raiders, monkeys, minions, and mayhem. Lizzy and Diesel are going to have to do everything they can to keep their heads above water and hope they are living a charmed life.
Release Date: June 23, 2015
Rating: 3.5/5
This book was received though NetGalley in exchange for an honest opinion. In no way does this influence my thoughts on the book.
After reading the first two books in this series, I wasn't sure how much I was going to like this one, after all, it seemed like they followed a general plot path and didn't shake things up much. However, I was pleasantly surprised from the beginning of the book.
From the very start of the book, I could already tell that I was going to like this one more than I had the previous two. Granted, its still getting a 3.5 rating from me, but I definitely did find this one more enjoyable than the other two. Why did I like this one more than the others, well it actually came down to a few different things.
The first reason I liked this one more than the others, was the writing. From the very first page, the writing seemed different, not a big change in the writing style or anything, but just the way it came across to me was much stronger than the others. Maybe that is in part that this one had a co-writer and the small change in the writing is from them, but whatever the case may be, I felt that this one came across much better than Wicked Appetite and Wicked Business.
The second, was the plot. I really felt like I had the general plot line for these books pegged down, but then come half way through the book and still so much more to go, I was finding that this book definitely was not following the same pattern as the others. And I loved it! The changes were a nice touch and really added some interesting elements to the story. It kept me guessing for the rest of the book and really made me wonder what could happen for our cast of characters next.
And as it was for Wicked Business, I really enjoyed the new characters we were introduced to. They all had a purpose to the story line but yet they were just fun to read about in general. I love the cast of characters (both main and minor) and love how they all sort of come and go throughout the book. Some of them you can pin down right away where their role is going to take them, and others take you by surprise. It was really fun to predict things and find myself completely wrong about them too.
Altogether, this book was a fun ride. The writing seemed more mature, the plot line less predictable, and the quirky cast of characters a lot of fun. This is definitely a fun series and worth a read.