For my first Waiting on Wednesday, I thought it only appropriate, that I talk about the one book that I'm most excited for, Soundless by Richelle Mead!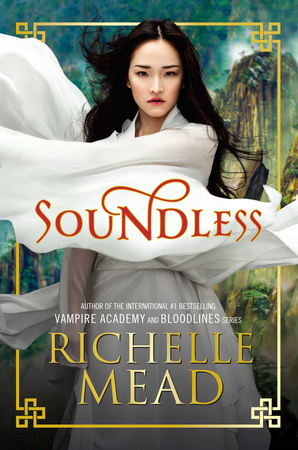 *Image and Summary taken from Goodreads
Summary:
For as long as Fei can remember, there has been no sound in her village, where rocky terrain and frequent avalanches prevent residents from self-sustaining. Fei and her people are at the mercy of a zipline that carries food up the treacherous cliffs from Beiguo, a mysterious faraway kingdom.

When villagers begin to lose their sight, deliveries from the zipline shrink and many go hungry. Fei's home, the people she loves, and her entire existence is plunged into crisis, under threat of darkness and starvation.

But soon Fei is awoken in the night by a searing noise, and sound becomes her weapon.

Richelle Mead takes readers on a triumphant journey from the peak of Fei's jagged mountain village to the valley of Beiugo, where a startling truth and an unlikely romance will change her life forever...
So its no secret that Richelle Mead is among my favorite authors so to see another book by her is fantastic news (of course I would be freaking out even more if it was another Vampire Academy series but still). This book is at the absolute top of my Wishlist. The cover is beautiful and the summary is intriguing. Everything about this book screams for me to read it.
I think the one thing I'm most looking forward to this book, is to see how Richelle Mead tackles this subject. Its very much different from the world of Vampires but yet it still has the promise of action that I have come to know and love from the Vampire Academy and Bloodlines series. The next thing I'm most looking forward to, is this unlikely romance that will change Fei's life forever. Can you say new book boyfriend? Although, I don't think I'm quite ready to give up Adrian yet, so this new one will have some large shoes to fill to make me fall harder than I did for Adrian.
Another part of this book that I'm excited about, is that this book also deals with Chinese Folklore which I think is really interesting! I've never read, or really heard anything about Chinese Folklore, but with Richelle Mead as the author, I'm sure that I will not be disappointed by it. It also catches my interest and will hopefully open my eyes to a new world to explore beyond just this book.
I know some other bloggers who have gotten their hands on this book, and I can't wait to hear their thoughts on it.
Are you excited to read Soundless by Richelle Mead coming out November 10, 2015? What are some of the things that you are most looking forward to with this book?