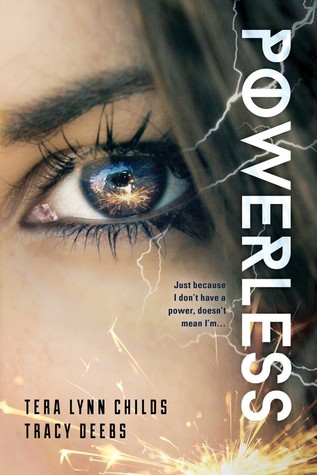 *Image and Summary taken from goodreads.com
Book: Powerless
Author: Tera Lynn Childs and Tracy Deebs
Summary: 
Kenna is tired of being "normal". The only thing special about her is that she isn't special at all. Which is frustrating in a world of absolutes. Villains, like the one who killed her father, are bad. Heroes, like her mother and best friend, are good. And Kenna, unlike everyone else around her, is completely ordinary— which she hates.
She's secretly working on an experiment that will land her a place among the Heroes, but when a Villain saves her life during a break-in at her lab, Kenna discovers there's a whole lot of gray area when it comes to good and evil and who she can trust.. After all…not all strength comes from superpowers.
Release Date: 6/02/15
Rating: 4/5
I first came across this book through Goodreads.com through their first reads giveaway. I was lucky enough to have been selected as a winner for this book and I was super excited to get it. I really didn't know what to expect when the book came to me, I  had never heard of either author before so I wasn't familiar with either of their works or writing styles. I was also a bit nervous about the book seeing as it was a collaboration project so I worried that the differences in writing styles would come across in the book. However, I was still really excited to receive my copy and began reading it almost straight away. 
My first opinion of the book, was that it was an interesting premise to go off of. Kenna (the main character) is powerless and is constantly surrounded by superheros in her everyday life. Even her mother who has no superpowers has a large role among the superheros. And then to introduce villains who still try to portray themselves as being bad so to speak, but yet not doing a great job of it. Seriously, if its three villains versus one powerless teenage girl, you would think that the villains would completely overpower her. However, Kenna, is resourceful and ends up making it through the run in, only to be left thinking about one of the villains, Draven. To make matters worse, she finds that her best friend, a superhero, is dating a villain. Then her house is broken into and completely overturned.