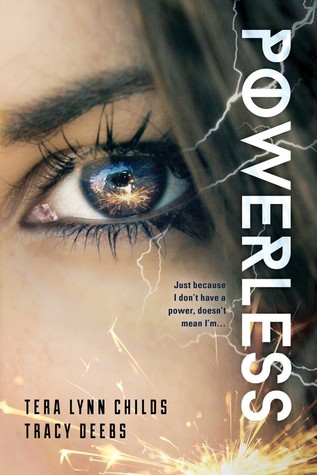 *Image and Summary taken from goodreads.com
Book: Powerless
Author: Tera Lynn Childs and Tracy Deebs
Summary:
Kenna is tired of being "normal". The only thing special about her is that she isn't special at all. Which is frustrating in a world of absolutes. Villains, like the one who killed her father, are bad. Heroes, like her mother and best friend, are good. And Kenna, unlike everyone else around her, is completely ordinary— which she hates.
She's secretly working on an experiment that will land her a place among the Heroes, but when a Villain saves her life during a break-in at her lab, Kenna discovers there's a whole lot of gray area when it comes to good and evil and who she can trust.. After all…not all strength comes from superpowers.
Release Date: 6/02/15
Rating: 4/5
I first came across this book through Goodreads.com through their first reads giveaway. I was lucky enough to have been selected as a winner for this book and I was super excited to get it. I really didn't know what to expect when the book came to me, I had never heard of either author before so I wasn't familiar with either of their works or writing styles. I was also a bit nervous about the book seeing as it was a collaboration project so I worried that the differences in writing styles would come across in the book. However, I was still really excited to receive my copy and began reading it almost straight away.
My first opinion of the book, was that it was an interesting premise to go off of. Kenna (the main character) is powerless and is constantly surrounded by superheros in her everyday life. Even her mother who has no superpowers has a large role among the superheros. And then to introduce villains who still try to portray themselves as being bad so to speak, but yet not doing a great job of it. Seriously, if its three villains versus one powerless teenage girl, you would think that the villains would completely overpower her. However, Kenna, is resourceful and ends up making it through the run in, only to be left thinking about one of the villains, Draven. To make matters worse, she finds that her best friend, a superhero, is dating a villain. Then her house is broken into and completely overturned.
The events that follow from here, take Kenna on an adventure with her best friend and a gang of villains one of which she is beginning to develop feelings for. She soon learns that there are many shades of grey and very little black and white in the real world. Deceived by her own mother, and now finding herself siding with villains, Kenna will have to keep her wits about her as she discovers the true nature of the superheros she has known her whole life.
The story itself was quick and easy to read. No hang ups, no hard to figure out phrases or language, it was just straight forward. The action starts almost straight away, being in the midst of a break in at her lab would certainly do that, but the pace stays true throughout the rest of the book. At times, it felt like it never really slowed down, and that maybe it should have to help really develop a better understand of the changing relationship between Kenna and the Villains. But at the same time, the short deadline they have to try and track down a missing villain before he ends up dead, seems to be reason enough to keep the pacing of the story fast and furious.
I felt that the characters were enjoyable and pretty realistic. However, I do feel that there could still be a bit more to really drive them home for me. To be honest, after a few chapters, I couldn't tell you what the main character, or basically any except Rebel, actually looked like. I also feel like the relationship between Kenna and Draven maybe came around a bit too quickly. So I would have liked to have seen a bit more build up between the two characters. However, I did still enjoy them very much and did find myself routing for them and hoping for them to get together.
Beyond characterization, I do feel that description could have also been used a bit more. It didn't hinder the quality of the book to me as I did feel that the book itself was still really interesting and a fun, quick read. But I think for this story to have gotten a 5th star from me, adding in some more description to really make me feel the things that Kenna was feeling as well as being able to paint a visual picture in my mind of where they were going and what was going on, would have helped this story get it.
I definitely feel like this would be a great summer read for YA fans, especially if you are looking for something that is a relatively quick read. It may be just over 300 pages, but the action really sucks you right into the story and you will soon find yourself at the back cover in no time. This book has definitely put both Tera Lynn Childs and Tracy Deebs on my radar and I will be looking into more of their stories as well as eagerly awaiting the sequel for Powerless.
Powerless will be coming out June 2, 2015 so make sure to put this novel on your list of books to buy and get ready to be sucked into a world of superheros and villains.